Full welded ball valve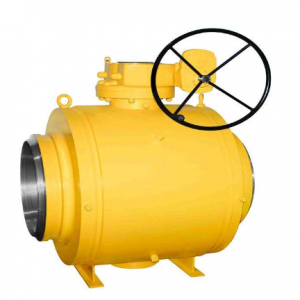 Full welded ball valve
Full welded ball valve Product introduction

 Full welded ball valve is intended to be fitted as stop/shutoff valves in water and gas-supply systems, in the heat-power engineering, housing and communal services as well as in the process lines at chemical and oil-refining plants, at pulp-and paper milks production facilities.
Full welded ball valve Design Features
» Seamless Carbon Steel or Stainless Steel Body: All welded ball valve body is compact and streamline for maximum strength and minimum weight.
» Stainless Steel Ball: The stainless steel ball is produced to extremely tight tolerances, and ground to within microns of perfect roundness to assure smooth operations and a tight seal.
» Optional Locking Device With Position Indicator: Instantly readable locking device that shows the valve operating position.
» Stem Bearings: These bearings are produced from an electrically conductive material that provides a safety grounded stem to eliminate static build-up and potential arcing.
» SEAT SEALS: The special 25% carbonized PTFE (Teflon) (G-453) seals tightly, yet allows easy, low-torque, quarter-turn operation.
» STAINLESS LABELS: Every label is permanently stamped, color coded with traceable serial numbers for each valve
» SEAT QUALITY FEATURES: Do not absorb water, and does not expand Chemical resistant, High friction characteristics Good temperature stability, Tested and approved up to 250℃

Full Welded ball valves covering, but not limited to Welded Ends Full Weld Ball Valve,Flanged Ends Full Weld Ball Valve, Full Welded Ball Valve with stem extension for buried service.
Full welded ball valve Technical parameters

» Uni-body Top Entry
» Double Block and Bleed
» Standards to EN12516, DIN3357-1
» Fire Safe, Anti-static, Stem Blow-out
» Optional Locking Device and Position Indicator
» Size Ranges: 1/2" through 16" (DN15 through DN400)
» Pressure Ratings: ASME Class 150 through Class 900 (PN10 through PN150)
» Standard Materials Ranges: Cast Carbon Steel, Stainless Steel, Alloy Steel etc
Full welded ball valve Related Products

Previous:Top Entry BW ball valve